Rent Snorkel gear for a week.
Only $29.99
No Rentals available at this time
We do not rent equipment with a phone call the information is listed below...
We rent our equipment only by appointment via e-mail, no exceptions.
Rentals will be delivered 1 day after receiving email...
drop-off (delivery) & Pick up to your Hotel/Resort Lobby... by appointment, no exceptions.
Door to Door we fit you for fins and masks
9:00am to 11:00am... no exceptions (Monday-Saturday)
Rent Snorkel gear for the week ... ( appointment ONLY) Rental cost $29.99 per set for the week. No store front available for pick up or drop off... you do need to fill out the form before moving forward with rental equipment...
If really need to call us; 593-9758
There is a charge of $10 for drop off, and $10 for pick up at your Hotel/Resort..
Please Note: Fees are for all sets not per set... (example: 4 sets $10 for all, it is not per set)
$50.00 additional charge After 11:00am & Sunday deliveries...
Please send over the following information.
First and Last name
Billing address: city, state and zip code
Phone Number :
How many sets... Adults Children
Shoe size, reg , wide or narrow
Resort/Hotel you are staying:
Name you are registered under...
Date for delivery with time...
Date for pick with time....
Please Note: this is by appointment only... need information before we can fill your rental request...
---------------------------------------------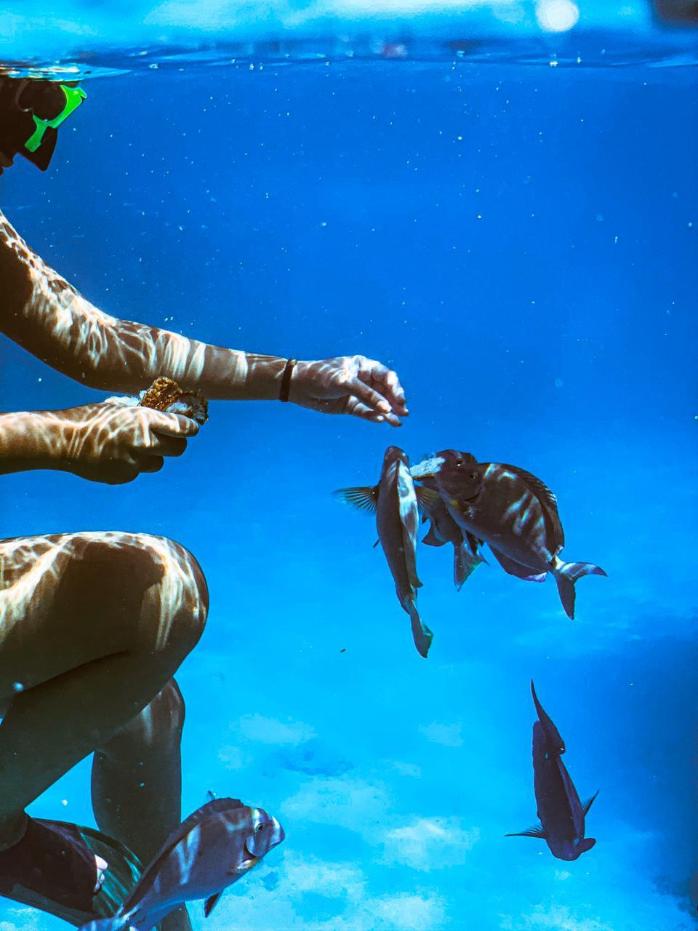 If you are sailing with us, you may want to go to other spots that are not for sailing trips, like Mangohalto, or Baby-beach.
Everyone can snorkel. However there are a few basic safety rules. The most important rule to remember is: Never touch coral! You may kill it and you may get hurt! Don't stand up on rocks too.. Good snorkelling spots include Arashi beach, Mango Alto, Baby Beach and many more.
This is how to snorkel;
Stand in the water to learn.( age 5 or 6 till age 105 ;D )
Mask must be over the nose, snorkel in the mouth and make sure you let no water come in..
O.K, Water WILL get into your snorkel,
whether you submerse yourself intentionally or a wave splashes water into it, or you just open your mouth without thinking about it.
No problem, just don't hold your breath, you need to take action, take the snorkel out of you mouth. Let the water run out, and start over.

After some time you can learn other ways to deal with the water in the snorkel. This is how you learn this..
Allow yourself to sink below the water until your face is just under the water.
Take a slow deep breath through your snorkel.
Hold your breath.
Completely submerse yourself and your snorkel in the water.
Rise to your original position.
Blow a sharp blast of air through your snorkel.
Slowly inhale to see if there is still water in it.
If there is still water in the snorkel, blow another short blast into it.
When the snorkel is clear, continue to breath normally through it.

Tips:

Try not to exhale all your air on the first blast.
When checking to see if the airway is clear don't suck in a huge gulp of air. Do it slowly.
You can try this in a swimming pool first.

Don't snorkel on you own, be safe and keep a good look out for speed boats!!

No spear fishing in Aruba!! Have Fun :)