You can be the next to write a review
just go to the link"Write Review"..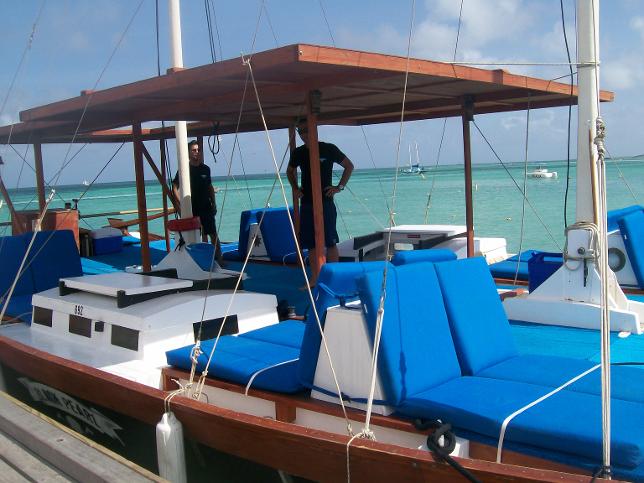 This is a small sample of what our customers sent us.
(find more on TripAdvisor, we are Palm Beach #1 sailing trip !!)
"Now I know why it's No. 1!!"
First, book this tour online and in advance. The value is great and they do sell out. Second, sit back and chillax!! This was the most relaxing and satisfying snorkel and sail trip we've been on throughout the Caribbean!! Why?? 1. Because you aren't sitting elbow to elbow next to other people. You get a BIG comfy lounge chair to lay on and admire the coast and sunset. 2. The owners are very friendly and are constantly trying to make sure everything is going great for you. 3. This is NOT a party boat. Sure they serve drinks and have an amazing drink special with five juices and various rums, but it's very relaxing. 4. They serve watermelon (very refreshing), a delicious gouda cheese and tomato sandwich on nine seed bread, and a delicious grilled gouda cheese sandwich. Both sandwiches just hit the spot perfectly after the two snorkel spots. 5. You can watch a video of your sail trip on FB! I "shared" it on my wall for everyone to see! 6. A great value! We will definitely do this again on our next trip to Aruba!
I just wanted to let you know how much we appreciate the hard work you do to make our visits to Aruba so enjoyable. In fact, "Sailing with Albert & Joanne" on the Blue Melody or the Black Pearl is one of THE reasons we come to Aruba. From grandparents all the way down to the 18 month old grandson, we all have a wonderful time. Thank you.

Dennis Patterson
Birmingham, Alabama
We just returned from Aruba and had to post a comment about the wonderful time we had on the Black Pearl snorkel and sunset sailing trip. This was not one of the big, crowded party boats, it was a perfect sailing trip for a very reasonable price. There were about 20 people on board, but the setup of the boat made you feel like it was your own private sailing with a few friends. By the end of the trip, the whole group were friends. The owners/crew were wonderful - very casual and comfortable. The made you feel like family aboard their boat. We had some very tasty drinks, hit some great snorkeling spots, had some more drinks and some fantastic home-made sandwiches while watching the beautiful sunset. I will definitely do this trip again on our next visit to Aruba, and I would highly recommend this trip to anyone visiting Aruba. You will love it, and you will love the owners/crew Joann and Albert!
Patrick and Lynn Brewer
USA
A MUST: A sunset sail, snorkel with blue melody or the Black Pearl (www.aruba-sailing.com). This is a quiet, relaxing tour. Albert (owner) only takes small groups. So it's very quaint and intimate. You feel like you're sailing with a friend and not on a tour. The snorkeling was much better than the trip with Red Sail Sports. Judy.

This boat is owned by a great couple: Albert is from Holland and Joann is from California. Not crowded at all, a personal touch with a great home made lunch served to you.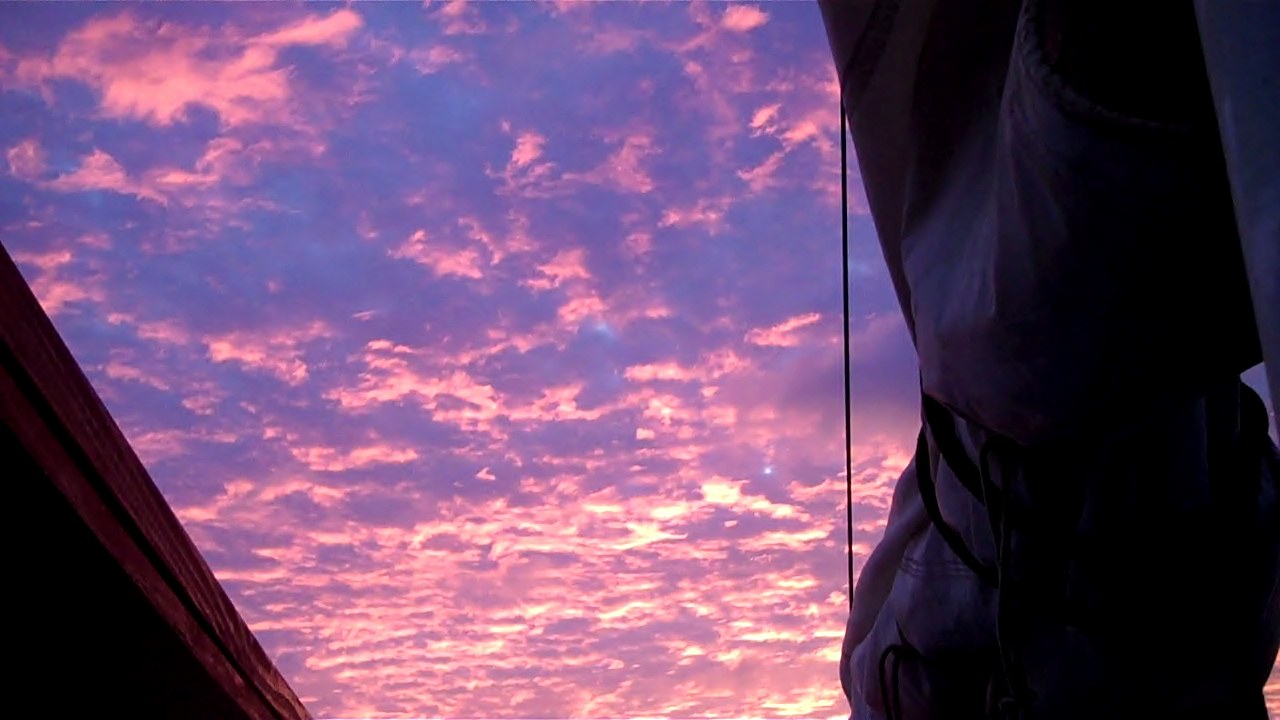 Our snokeling outing was on the Blue Melody. I hadn't read about this before my trip to Aruba having only read about other sailing trips. We were approached while on the beach early in the week and decided to go ahead with a smaller group boat for our outing. The Blue Melody is owned by a husband and wife. We scheduled it for Thursday as most of his days were booked. We went to two different sites and we arrived just as the larger boats were done so we had the entire place to ourselves. We saw a lot of neat fish, an eel and at the second sight, they gave us bread to feed to the fish which surrounded you. They served us their Blue Melody special
drink, sandwiches made on great bread and we also had a kind-of garlic bread. Oh, the boat sails from 3:30 to 6:30, so you get to the see the sunset on the way back. The boat leaves from the dock right by the Marriott. All in all a very good trip, very nice people and I would recommend this to anyone. Lory & Rick
We went on a nice snorkeling trip on the Blue Melody, Albert took really good care of all of us. Nice, relaxing trip, two stops, plenty of time to snorkel and enjoy the sites. Highlights included finding two big starfish for the kids, seeing a green moray eel free swimming along the bottom, and being surrounded by fish as we fed them some bread! Jack & Barbera
We've done Jolly Pirate and may more.
However,
We were just there and snorkeled on the Blue Melody. Owners and crew are a husband & wife team - Albert and Joann. They only take 12 people and are so wonderful - fun and just all around super people. Great food (yummy sandwiches & watermelon slices) and drinks. I highly recommend it.
It was great to see the over-crowded Jolly Pirate with everyone standing while we lounged out on the catamaran with our cocktails.
If you go, please tell them that the two brothers, Zachary & Thomas sent you
We take the Blue Melody every year and it is wonderful.
The Blue Melody docks by the Marriott. We usually do a private sail with Albert as our family is there. Always a pleasant experience. Lisa.
We had a great time on Blue Melody with Albert & Joann. The boat was a perfect size, great price, super snorkeling...Albert got in the water with us to make sure we saw cool fish! Joann was a great hostess with noverending drinks and awesome sandwiches! This is a very local, safe, fun, well priced few hour trip not to be missed!
The Messinas from Idaho
------------------------------------------------------------------------------------------------------------------------------------------------------------------
I can not begin to explain what a wonderful time we had. Albert was walking the beach and happened to come upon us, he cut us a sale price, we booked and arrived the next afternoon. It was the one of the best part of our Honeymoon, 3 hours of sailing and site seeing, personal stories and friendly conversation. The snorling, sunset and friendliness was just so wonderful. We will be back and tour again with Joann and Albert. We had an absolutely wonderful time with beautiful pictures.
Thanks Again
John and Candace Iszard Aug '08
-------------------------------------------------------------------------------------------------------------------------------------------------------------------
Aruba Blue Melody was fantastic. Worth the money and the hosts are very gracious. Would I do it again...you bet!