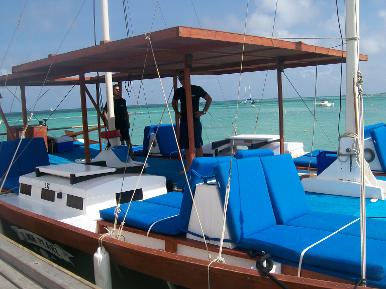 Booking is E
asy
1 -New Booking, Fill out the form.
2 - Create Booking
3- On Second page: fill out C.Card To hold seat
4- Click on Submit booking
Back to Home
Once you are done this message will show;
Payment has been received; However, please note: we do not process your credit card until the day of the trip if you would like to use your credit card please bring this with you to the pier for check in, full payment is due cash is accept as well. Late Cancellation and no show policy does apply there is a full charge.
Confirmation.
will be sent to you within 24 to 48 hrs notify us if you did not receive one...
Please check your junk mail or E-mail us.
Tip; Print confirmation information to know before check-in.
E-mail us for Private trips






Need Even More on How to Book?
This will help.

1. After clicking on "Book Now" you will see the agenda. Find the, month, week (

Day/Date)

.

Click on it., then,


2. Look at

Availability and

look at the number of open seats.
3. Then click on Create

New Booking

.
Please list first & last names of each person in

your party ...

Name you are Registered under has space to type this information in...

please do not forget to put name you are registered under...




4.

Add your group Quantity 1/20 to the list, and how we can reach you, add your billing address, city, state, zip code and billing phone number in the us or other countries)! Then the resort/hotel you are staying at.

then click on

Create Booking



5. Fill out the forms for information and

payment

billing address for Amx,

Master or Visa Card
Please note that if you are booking for others you can only use the card that the booking was created with. (or that card is no longer good please bring your new visa or master card with you... We do not accept Dinners or Discovery cards.
The 1st notice we send you will say: Status: Payment received by administrator, this is just to hold the seats, you still need to bring the Card Visa or Mastercard to the boat(or Cash) A Now click on Submit.


( the window for making a booking is for

20 minutes only

, then you may need to go back to "booking") Basically start over...


6. O.K.... Now you will see: "Thank you for booking". Wait for the approval..If you do not get the "Thank you for booking window" and if you don't hear anything from us (24hr), your booking did not go thru,

booking was

maybe

over 20 minutes and the

system

closed it, or

e-mail had typo error or was not

complete, ..


7.

If you did not get a confirmation

notice from us in 24 hrs;
Email blue_melody2000@hotmail.com
Please check you junk mail or spam folder sometimes the confirmation go there...
Always check your booking for date and number of seats on your confirmation.. If you did not get a confirmation (check junk/spam box) you may still have made a booking, let us know if you did not get a confirmation to avoid being charged for seats you did not use. policy

That's it.

..You are Ready to Get your very Own seats